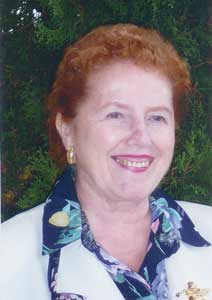 About Anne T. Six



A mother of two and grandmother to six, Anne Six and her husband of 47 years live in Groveland, MA. She retired recently after 25 years of service at AGFA Corporation in Wilmington, MA.

Now Anne writes everyday from 4:30 am to 8 am or longer, with the attitude "You can if you think you can." Every Saturday Anne goes to Dunkin Donuts and writes for one hour in a practice she learned from Natalie Goldberg's Book "Writing Down The Bones". It's called writing your monkey mind. Anne says, "You have your pen and a blank piece of paper and you start writing until the inner writer opens up and does the writing." Most of the time she starts this process by writing, "What am I doing here? My mind is a total blank and I can't think of anything to write." She continues in that format until her inner writer takes over and good ideas begin to flow.

"Muses Along The Way" is Anne's first book. While working full time, she published poetry in two editions of anthology of poetry books. Her published poems are titled "Programmed to Love" and "Love Found the Way". Anne wrote an article for LaSaleette Mission Magazine titled "Human Complexity and Healing" and has articles published in Mission Magazine and in New Covenant Mangazine. Anne's article titled, "The Sleeping Writer" was published in the Summer/Fall 2004 issue of The South Boston Literary Gazette.

Currently, Anne is working on four adult mystery books which are in different stages of development. She's planning on writing two more books in her "Muses Along The Way" series, one of which will be a book of poetry.

Anne is an inspirational speaker who uses creative imaging and storytelling to connect with her audiences. She enjoys speaking to various groups, among them Women's Aglow and Magnificat Joy of Boston.

Anne is involved with her church, St. John the Baptist Church in Haverhill, MA, as a lector and Eucharistic Minister. After taking 16 Biblical collage courses, Anne has taught adult Bible classes at her church. With as many as 54 in her classes, she believes in helping others with imagination and humor and creativity to become alive to the wonders of God's Word and to know how much God loves them as His Precious children.

Anne's philosophy in life: "All our failures are but stepping stones to our success, feedback that gives us new directions to travel. My desire is to take a small part in that journey with those I encounter. Helping each other, we can become what each of us are meant to be."